LAMP programming is one of the most advanced technologies for web application and open source application development. It is a powerful, open-source platform that consists of Linux, which is used as an operating system, Apache, which is used as a web-server, with MySQL used as a relational database managing system, and PHP as the object-oriented scripting language.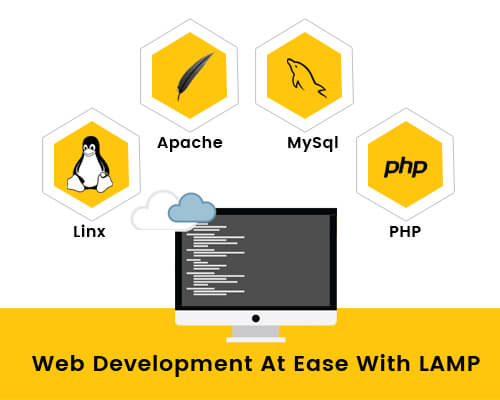 OmkarSoft is a web development company based in India, which provides all kinds of services that include LAMP as a business solution to our clients, no matter what they may be – from small business to international corporations.
We possess a highly-proficient team of web developers and programming engineers, capable of answering any potential need of our clients. During the several years of our existence, we have gained considerable experience in providing specific, well-adjusted custom solutions that can fit the needs of any customer. It doesn't matter what kind of business you are running – our team of experts is able to answer any challenge that you may set for us, from building simple, informative websites to managing large-scale corporate databases.
Services we provide include:
Extracting a full potential php framework and CMS Solutions
Enhancing a Dynamic HTML Quality, and providing easy MySQL integrations
Empowering CSS, Javascript, Ajax, HTML5, PL/SQL platforms
Developing client-oriented projects, tasks, and business websites with CMS Support
Ensuring website maintenance, consistent upgrading and SEO optimization
Emphasis on CMS, Zend Framework, e-Commerce, CodeIgniter, Drupal, Joomla , Wordpress, and CakePHP at a low price.
In this sense of web services envelope, PHP Development paradigm serves a best effort web services on client demands, project needs, and Webbers impressions with an effectively affecting the online-only marketplaces, across the worldwide. Also, it employs by attracting a various domains of developers, and novices to focus on web reality-Competition and value for money-making with a common tasks such as Website Designing, Website Development, Search Engine Optimization, Open Source Customization, Portal Development, Multimedia Solutions, Graphics / Print Design and more.
Why Choose Us ?
As a leading brand in web development, we provide:
Producing flexible project modules, samples, and custom services with a varied sizes, and with an estimated timeline
Promoting a website cycling, SEO Friendly Context, and site appearances
Preserving website data, provide backup repository systems, and webpage file-sharing
Powering websites with solutions for CMS,

e-Commerce

, Enterprise Application Solutions, and Custom Business Applications
Prompting services on Call/skype/chat/e-Mail
To Mark a marketplace in Indian environment,
PHP development is one of the most important web solutions that helps position a company name in web industry. In order to advance its business status, we provide a wide range of advanced, customer-friendly solutions customized per needs of each individual client.
In order to do this, we emphasize the importance of PHP language for to website development, and provide low price, secure, reliable, and best suite for web designing, and web application, and provide best possible conditions for potential growth, product functionality, and company positioning.