The graph of mobile user is increasing day by day. Currently they are billions of mobile devices running different operating systems and platforms like Android, iOS, Windows and Blackberry. The major problem faced by many developers is certainly trying to develop apps for all of them. Hybrid apps allow developer to leverage all the popular mobile platforms and it is a perfect character combination of native and web-based applications.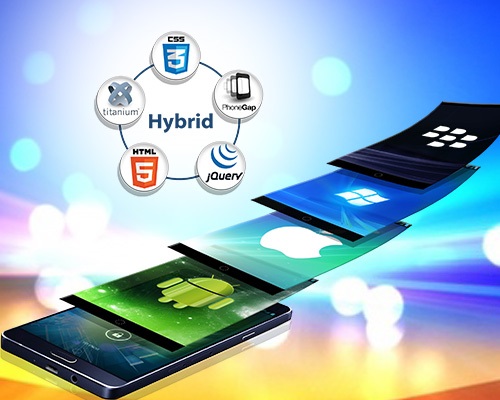 Why Choose us as your Hybrid App Development Company
Our hybrid apps will work on all the platforms you want them to
Our expertise tester performs rigorous testing to assure quality on all our projects
Speedy delivery of hybrid app resulting in lower costs
Proven track record of successful mobile app development services
Experts in developing Responsive and adaptive hybrid app
Omkarsoft is the leading hybrid app development company located in Bangalore. Our teams have significant experience hybrid app development and we provide our client hybrid app that can highlight on all app stores and increases business attention in the mobile industry. We have successfully completed many hybrid mobile app development projects and provided best services for our international client.
We have huge expertise in hybrid mobile app development and years of experience in the industry. We have gained enough knowledge in providing mobile app development services which are compatible with different platforms. hybrid app development is one of the most important mobile app solutions that helps position a company name in the mobile industry.
In order to advance its business status, we provide a wide range of advanced, scalable, flexible customer-friendly solutions specially developed per the needs of each individual client. In order to do this, we assert the importance of hybrid app development and provide secure, reliable mobile app development services at pocket friendly cost.