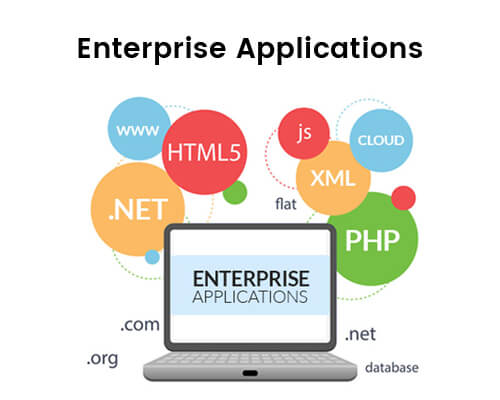 Efficient and effective enterprise applications services in areas such as Enterprise Resource Planning(ERP), Customer Relationship Management(CRM) and Content Management System (CMS) are essential to ensure competitiveness and smooth operations.
Enterprise Applications are transforming business activities and re-defining business partnerships. Enterprise Applications create value by using the Internet, intranets, cellular networks and other digital technologies to attract and communicate with clients, suppliers, employees and other key stakeholders.
Enterprise solutions are often too expensive for small and midsize businesses and organizations. As a result, their business suffers lack of automation and efficiency. Open source solutionsallow small and midsize enterprises to acquire software solutions at a fraction of the cost of their commercial counterparts.
Standard software solutions do not fit the requirements of each particular business enterprise, but custom software development possesses the potential and means to help small businesses gain exclusive solutions for their specific needs.
However, lack of professional support for the implementation of open source solutions can become an issue, and at OmkarSoft, we are committed to addressing that concern. OmkarSoft can provide your organization with open source solutions, customized to your requirements, and backed-up by our services.
OmkarSoft's open source solutions are based on existing high-quality open source software, which we select, customize, and implement according to your needs.
Our Process
Needs Analysis

Not sure what ERP and/or CRM software package is right for your business? Our team members are masters at analyzing your company and helping you decide which software best fits your needs.

Define Strategy

We define strategy so that we don't miss out any issue/feature during our Design & Implementation phase.

Design & Implementation

Out-of-the-box software won't meet all your progressive needs. OmkarSoft will modify/add new features to existing solution so that it works perfectly for you.

Test Solution

We thoroughly test the solution before deploying it on client's site.

Deploy the Solution

We deploy the fully developed customized solution to our client's location.

Training

Even though our software is easy to use, training is aimed at ensuring that your staff is aware of all the features and how to get the most out of them. Training begins right after implementation – and we stay with you as you grow, teaching new employees and build up the skills of your most dedicated employees even further.

Software Support

We don't disappear after implementing your software and training your staff - we will be there when you need us, whether it's upgrades, training, or any other service you might need.
Open Source Advantage
Open Source Software (OSS) is the ideal solution for businesses, governments, hospitals, and other organizations that are looking for ways to reduce their IT budgets without cutting services, as well as for start-ups or small companies that have a tight budget and cannot afford high IT costs.
Here are some of the advantages of Open Source Software:
The use of OS architecture eliminates the need of costly software licenses and maintenance agreements, as well as qualified and expensive IT staff, and at the same time provides the same, if not greater productivity, efficiency, reliability, product support, and security.
Unlike the closed-source traditional model, where only the vendor-employed programmers can access and modify the source, thus leaving general users completely dependent on the vendor for updates and patches, OSS code is open for anyone to see, modify and adjust to personal needs.